Description
BMW Apple CarPlay Remote Activation
Do you even want to use your Apple Maps on your BMW or Mini car screen or listening to Spotify, youtube music through the BMW speakers? Will it is possible with the BMW CarPlay — an original Apple system that lets you use your iPhone's navigation, messaging, music and other driver-focused apps on the iDrive display. 
With many apps to choose from whether you want to access your favorite music tracks via YouTube Music or Spotify, chat with your friends and family through WhatsApp or Messages, or simply just want to use waze, google maps or apple maps while navigating through the city. Just pair up your iPhone wirelessly and you're good to go!
To conveniently control and switch between the apps you can use your iDrive's built-in controls, including iDrive controller, steering wheel buttons, Siri voice commands or touchscreen if your BMW features one.
The best part is that it takes less than an hour of your time for a simple USB or cable coding
procedure .
No intricate installations, taking your car apart or advanced coding are needed. All can be done at the comfort of your home, if you unable to take your car apart you can stop by at our garage 
see the 
contact page
 .
UK Auto Retrofits CarPlay activation is compatible with F-Series and G-Series BMWs and MINIs with newer iDrive generations (e.g. NBT EVO ID5/ID6, MGU etc.). Depending on your vehicle specifications you may also need to add a wireless WiFi antenna to use CarPlay. 
Even though Apple CarPlay apps are displayed on your BMW screen, those apps are not standalone, the are still being run by your iPhone. In other words BMW Apple carplay requires your iOS device to be connected to your vehicle at all times.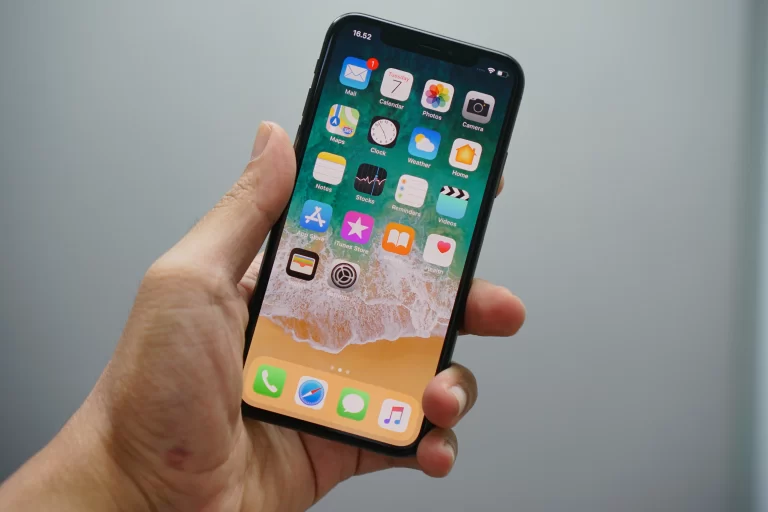 What is Apple Carplay for BMW?
BMW Apple CarPlay gets direct access to your iPhone's messaging, music and navigation apps straight from your dashboard display. Beside those, you can find many other carplay compatible apps such as EV Charing and food. Using Apple carplay navigation apps is more 
accurate at all times, you dont need to spend extra money to update the app unlike the BMW Navigation app which you need to update yearly, with BMW Apple Carplay Navigation such as Google Maps, Apple Maps, Waze or TomTom, you are up 
to date in seconds, which makes them a very natural first-pick for the fastest and safest navigation wherever you are in the world. At all times, without any Internet connection whatsoever! 
Apple CarPlay Parking & EV Apps
But BMW CarPlay Apps are not only useful for navigating around the city – you can also find solutions, such as SpotHero or EasyPark, making it easier to park up in a convenient spot. Or use apps like PlugShare and ChargePoint for a quick charge up of your electric vehicle. 
Apple CarPlay Music Apps
If you can't go anywhere without your favorite Spotify or YouTube music playlists, or being a true audiophile, respect nothing less than high-quality HiFi tracks from your Tidal app, BMW Apple CarPlay will allow you to carry over what used to be a phone-exclusive experience into your car. 
And should you find music apps not enough for your hourly trips to work, a bunch of great podcasts from Audible or Stitcher may help you pass the time quicker.
Apple CarPlay Communication Apps
Texting while driving is not the best idea as anyone can tell – especially when you're at high speeds. Yet thanks to BMW Apple CarPlay's built-in Siri voice assistant you can use your preferred messaging apps such as WhatsApp, Messenger or Line to send and receive messages without taking your eyes off the road and hands off the wheel. 
Staying in touch with your peers when driving couldn't be safer than that.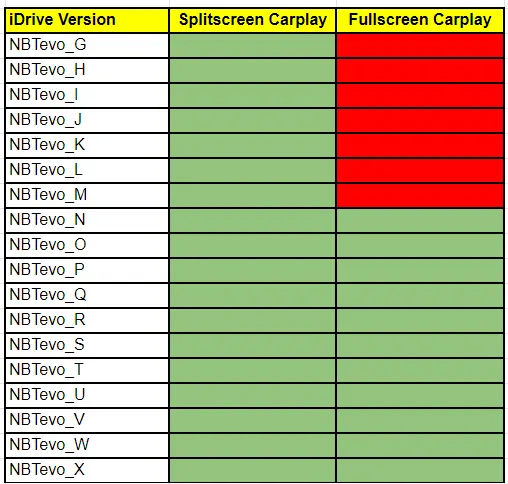 BMW Apple CarPlay Split Screen vs Full Screen
The native CarPlay for BMWs and MINIs comes by default with a split-screen interface and fits eight apps per screen. Our Apple CarPlay activation will however unlock your CarPlay's full screen option (if eligible for your vehicle) letting you display our running app on the whole screen width and have as many as ten apps per page. Please note that full screen carplay is only possible if your head unit firmware is 03/2018 and above 
Full-Screen CarPlay
Apple CarPlay looks even better when it takes up the entire screen. Being able to take advantage of your wide screen is amazing as it looks great and usability is a lot better. This can only be activated if your iDrive firmware starts with N, O, P, Q, R, S, U, V, W, X or Y. CarPlay will take up the entire screen on your BMW. This does disable the split-screen functionality only when using Carplay.
---
!! Important !!
If you have software version starting with P, Q, R, S, U, V, W, X or Y then you will need to get it coded either In-Person(Manchester) or Remotely. Remote coding requirements are below.
To Check Software Version
 – Go to Navigation Maps -> Press Options Button -> Go to Settings -> Go to Position & Version History -> Version Information – Please 
contact us
.
Only for NBTevo iDrive 5/6 Pro Navigation systems. For EntryNav2 ID6 Carplay Activation, 
click here
.
90% of cars have WiFi antenna but some cars may require additional WiFi antenna to get CarPlay functioning properly. It is the buyer's responsibility to buy one. You can always buy one after Carplay activation as WiFi antenna is just plug and play.
Please note. No Returns/Refunds because the Files/Codes are tied to you car's VIN number.
If you have any questions, doubts or simply want to know more – Please contact us.
Activation Methods
Remote Activation: We connect to your laptop and car online remotely and code Apple Carplay for you. Easy and really simple to do, no technical knowledge required at all. For remote coding, you require ENET/OBD cable and Windows laptop (Check requirements below).
In-Person Manchester: You come to us in Manchester and get Carplay activated. This is mainly for those who are near us and is more feasible to simply drive down to us and have their car coded. The process usually takes 15 minutes.
Remote Activation
We can activate CarPlay for you remotely if the USB solution won't work for you. We offer remote activation of CarPlay no matter where you are in the world. All you require is a Windows Laptop, ENET/OBD Cable and Internet connection. We can help you setup everything. After that, you will need to book a slot in for remote activation.
Requirements
Windows Laptop – Has to be decent / Nothing from the 90s please
ENET/OBD Cable – We can send one at extra cost, if required
Strong WiFi/Internet Connection – This ensures that our connection to your car and laptop is stable
Remote Connection Software – We will send you all download links and help you set up
MacOS also possible but you will need to setup Windows Virtual/Parallel desktop.