Description
PLEASE NOTE: THIS IS ONLY COMPATIBLE WITH BMW ORIGINAL SCREEN
Notice:
1) Before purchasing, if you are unsure of anything, please contact us, using our contact form. Click here
2) The product support upgrade firmware, 2 years of Warranty.
Please note: Some Model EVO ID5 AND ID6, carplay can actually be coding instead of using this device. Just contact us with your car VIN and we will let you know if it is possible to just code it. We can code it anywhere in the world remotely.
QUICK DETAILS:
Product Features:
Apple CarPlay, AirPlay,Android auto,Screen mirror,WIFI,Bluetooth, USB

 

Warranty:

 

1 Year

 

Connection Methods:

 

Wireless bluetooth or USB cable

 

Vioce control:

 

Apple Siri, Google Assistant

 

Support:

 

Apple CarPlay and Android auto

 

Operating Methods:

 

Steering Wheel, Knob, button,voice control

 

Parking:

Parking sensor,Front and Reverse camera

 

System update:

 

Free update

 

Single Package Size:

 

28.5cm*23.5cm*7.5cm

Single gross weight:
1kg
Compatible with BMW CIC, NBT, When the installation is complete, you can switch between the OEM system and Apple CarPlay or Android auto.
Support the wired and wireless smartphone mirroring.
Can be connected with external rear camera, front camera (Omni view, Around view).
Operated by genuine buttons. (Siri voice control, knobs, buttons or touchscreen)
Jack by jack cable, Easy installation. plug and play.
Available the Wired / Wireless Apple CarPlay, Wired Android Auto.(Some Android smartphones support wireless connection, please refer to the table below)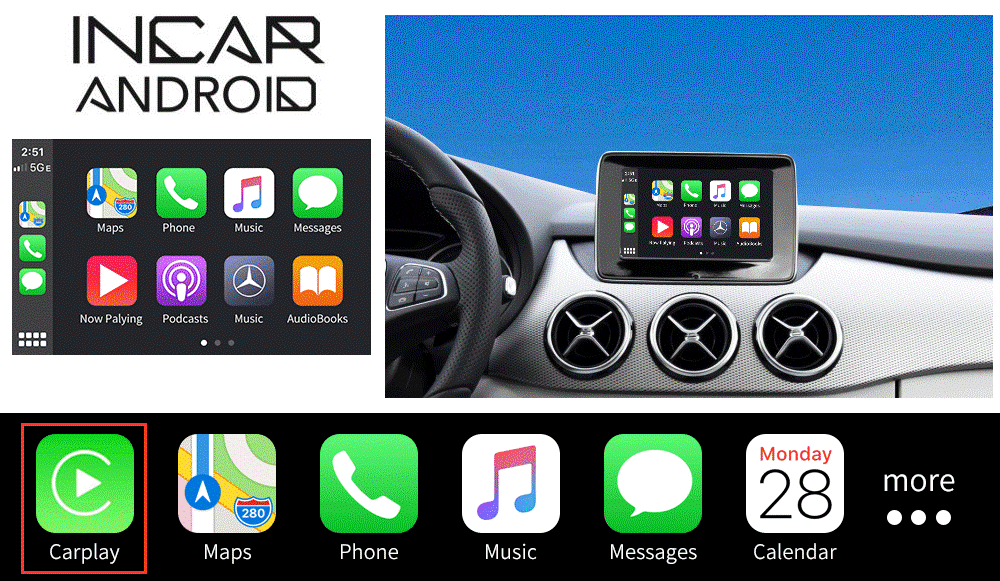 Mobile phone models supporting wireless connection:
CarPlay:
IPhone 5 and above
Android auto:
Pixel Pixel XL /  Pixel 2 Pixel 2 XL / Pixel 3 Pixel 3 XL / Pixel 4 Pixel 4 XL / Nexus 5X Nexus 6P
Samsung Galaxy S8 S8+ Note8 / S9 S9+ Note9 / S10 S10+ Note10 / S20 S20+
Other models of smartphones support wired connection.
Wireless CarPlay & Android-Auto
You can use the latest IOS 14+ CarPlay system
We will continuously update the system and you can get the latest firmware support.
Android auto
Your Assistant can help you call phone numbers from your contacts, chat with your favourite apps, read your messages out loud and text back, keeping your hands on the wheel.
Support for wireless connection to Android Auto models
A car or aftermarket receiver that is compatible with wireless Android Auto.

Pixel, Nexus, or Samsung phones with Android versions shown below:

| PHONE MAKE AND MODEL | ANDROID VERSION |
| --- | --- |
| Pixel 3 or Pixel 3 XL | Android 8.0 or higher |
| Pixel 4 or Pixel 4 XL | Android 10.0 or higher |
| Samsung Galaxy S8 or S8+ | Android 9.0 or higher |
| Samsung Galaxy S9 or S9+ | Android 9.0 or higher |
| Samsung Galaxy S10 or S10+ | Android 9.0 or higher |
| Samsung Note 8, Note 9 and Note 10 | Android 9.0 or higher |
| Other Samsung models | Android 10.0 or higher |

Pixel, Pixel XL, Pixel 2, Pixel 2 XL, Nexus 5X & Nexus 6P also support wireless connection in most countries.

The Android Auto app version 4.7 and up.
A high-quality USB cable for initial setup.
Wired connection Android auto supports all Android phones with Android 5.0 and above
Notice
1) Before Purchase, please make sure that your car's AUX is activated.
2) NTG 4.5 cars with Ami port, we will not supply AMi cable with the CarPlay. You will need a purchase an AMI to female aux separately.
Package  
1× CarPlay box
1× WIFI antenna
1× Power cable
1× LVDS cable
1× USB cable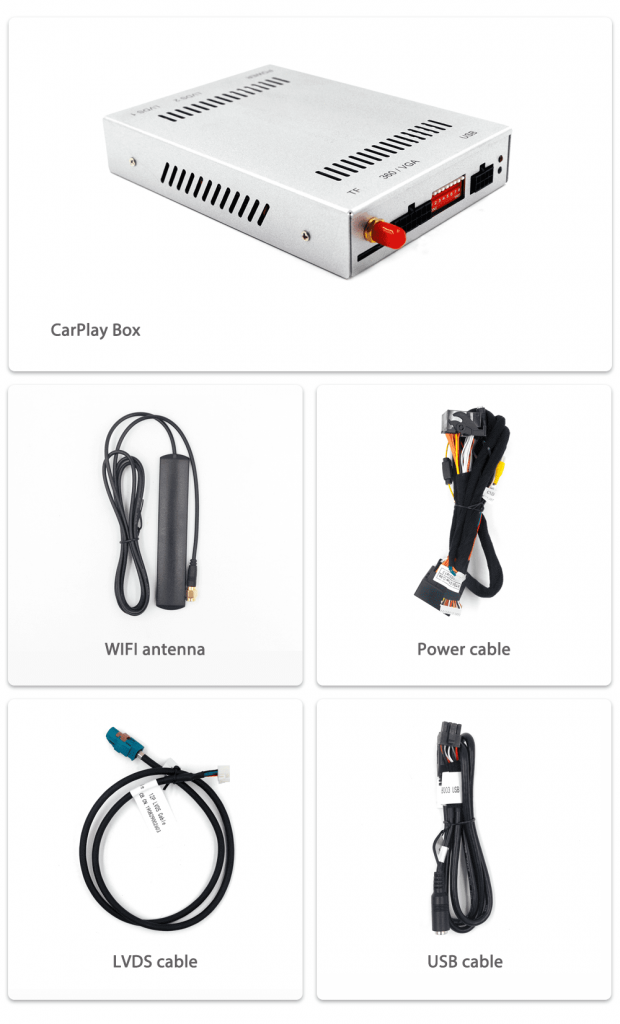 Frequently Asked Questions