Description
BMW Wifi Antenna For NBT EVO Wireless Apple CarPlay
Introducing the Brand New BMW WiFi GSM 3G Antenna, designed to provide a strong signal for all WiFi/3G/GSM media systems on BMW and Mercedes vehicles. This easy-to-install and use antenna features fine workmanship and a long service life, ensuring you get the most out of your driving experience.
The base of the antenna is adhesive, allowing it to be fitted anywhere, and it comes with a universal FAKRA connector. This antenna is specifically designed to be compatible with BMW iDrive 5 and iDrive 6, as well as BMW EVO and Entry EVO systems.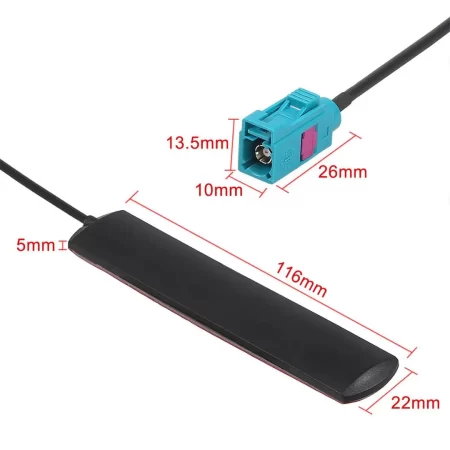 With a working temperature range of 0~+50℃ and a storage temperature range of 0~+50℃, this antenna is built to withstand a variety of conditions. Plus, with fast 1st class shipping and free delivery, you can get your BMW WiFi GSM 3G Antenna quickly and conveniently.
Upgrade your BMW's connectivity today with the BMW WiFi GSM 3G Antenna for Wireless Apple CarPlay. Don't settle for a weak signal – get the strong and reliable connection you need for an optimal driving experience.